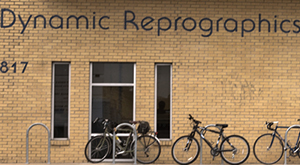 In our shop, we're not green with envy. It's a long-standing habit – and one of the best ways we honor our great city.
Here's some of what we do to conserve energy and resources:
1. We use wind-powered electricity in our 12th Street shop.
2. We harvest rainwater for our own landscape irrigation.
3. Our recycling dumpster is twice the size of our trash.
4. We maintain an organic edible garden on our property.
5. Many of our employees ride their bikes to and from work.
6. We offer both recycled and FSC paper in small and large formats.
7. We recycle ink and toner cartridges with the Green School Project.
8. We offer cost and travel savings with our on-site services, "FMs".
9. We email invoices and statements to save paper and fossil fuels.
We'd love to hear about and learn from your conservation experiences. Drop us a line with some of your best practices and we'll share them in an upcoming newsletter!