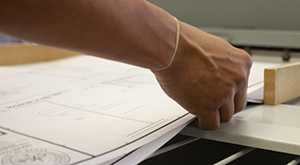 We can scan large and small documents for you, in black and white or color. From old photos to full size architectural drawings, we'll scan anything that's two-dimensional, including illustrations and paintings.
We also offer batch-scanning services for binders and unbound books with the option to include OCR (Optical Character Recognition), which enables you to search your PDF documents using keywords.
For construction jobs, we can organize the final documents and drawings for you. You'll receive a disc that includes one or more multi-page PDFs. Or, if you prefer to bring in a flash drive, we'll transfer the files for you. If you have hardcopy documents, we'll scan and index them for you as well.
File navigation is a good example of the advanced technology services we offer our customers.  We can hyperlink these files, enabling you to navigate within them. Hyperlinking connects your drawings and documents seamlessly, giving you the ability to locate the information you need quickly and efficiently. Our hyperlinking services can be as basic as bookmarking your table of contents or advanced enough to provide complete bi-directional links between all call-outs, cut planes, RFIs, submittals, specifications, and more.
Converting your material documents to digital files benefits your business or personal organization through:
Increased efficiency and searchability
Added security of having important documents backed up
Interested in digital file management for your projects? Please email Cora Brown or call her at 512.474.8842.